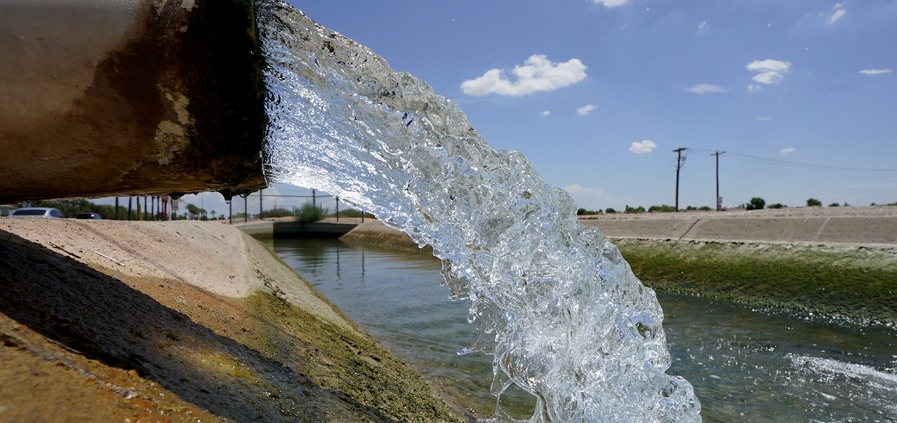 As a decades long drought continues in the U.S. West, a new Department of Energy report suggests existing ditches, pipelines and canals could bolster local hydroelectricity supplies.
The study released this month by the Oak Ridge National Laboratory said so-called conduit hydropower — small-scale projects on existing manufactured water infrastructure — could generate as much as 1.4 gigawatts nationally.
That may not seem like a lot. For comparison, the American Clean Power Association said the U.S. added more than 12 GW of solar energy in 2021 alone. But study author Shih-Chieh Kao said individual developments can make a big difference in communities, especially because they carry little overhead and can be deployed quickly.
"Something that is less than 1 megawatt — in a rural system, it can be used to offset existing energy from a non-renewable source," said Kao, group leader of the water resource science and engineering group at Oak Ridge. "We believe it is the low-hanging fruit for generating hydropower."
While every state has conduit hydropower potential, the greatest opportunity is in Western states, especially California and Colorado, the DOE study showed.
By design, conduit projects have little environmental impact, unlike new dams or turbines built on natural waterways. They can also be approved through an expedited federal permitting process. Acting as a distributed resource — for example, providing power to a nearby farm or microgrid rather than putting it on the grid — also means such projects do not require significant electric transmission infrastructure.
LeRoy Coleman, spokesperson for the National Hydropower Association, said the Oak Ridge lab study is a reminder of the "huge growth potential" for small hydropower projects, one that informs a "new awakening of what hydropower means for the grid."
"We're hopeful this will encourage developers, irrigators, utilities, industrial users and the like to take a closer look and see what potential they have," Coleman said in an interview. "Every clean megawatt that we add helps us achieve our decarbonization goals."
There are currently about 530 megawatts of conduit hydropower systems online in the United States, according to the study. That's a little more than half a gigawatt. A gigawatt equals 1,000 MW.
Conduit hydro projects can be placed on constructed water conveyances — anything from an irrigation canal to pipes in municipal water and wastewater stations. The small generators can even be housed in the pipes that carry cooling water in and out of fossil fuel power stations.
There is the opportunity to nearly triple that existing generation, according to the Oak Ridge study, based on the water flows, pressure and geography of existing conduit sites. The largest potential U.S. source is in the agriculture sector, with 662 MW possible, the report showed.
Another 378 MW could come from industrial sites, the study said, while municipal water systems could produce 374 MW. In the industrial sector, 60 percent of the potential was associated with the cooling pipes from thermal power plants — a source that has not yet been tapped in the United States.
Western states offered the greatest potential because the mountainous terrain creates the right pressure conditions, Kao said. California, with 243 MW of potential, and Colorado, with 204 MW, topped the list of states with the greatest conduit power opportunity, followed by Washington, Nebraska and Oregon.
Generation from the Southwest's largest dams has diminished amid a brutal drought (Energywire, Sept. 13). Dams along the Colorado River in the Southwest generated more than a third less than average in October through August of fiscal 2022, according to the Western Area Power Administration, DOE's power marketing administration that transmits hydropower in 15 states.
Oak Ridge's Kao said that although conduit hydropower is not intended to fill that gap, the projects have fewer drought concerns because they do not use additional water.
"This is all about modernizing your existing systems and making it more integrated," he said.
In 2013, Congress passed the Hydropower Regulatory Efficiency Act, which set a simplified 45-day federal regulatory approval process for certain conduit hydropower projects and removed small projects from federal jurisdiction. Since then, 128 conduit hydropower projects have been built through the expedited process, according to the National Hydropower Association.
The America's Water Infrastructure Act of 2018 expanded the range of projects eligible for faster permitting.
The Oak Ridge study is meant to inform future DOE examinations of conduit projects to expand their use, part of a broader push to deploy more nontraditional hydropower. According to the study's authors, the sector can still face challenges due to uncertainty about cost recovery and whether the projects are eligible for certain federal incentives. Technology development could also further enhance the power opportunities from certain types of infrastructure.
The estimate of 1.4 GW may not even capture the full potential of power generation from existing infrastructure.
Emily Morris, CEO of Atlanta-based Emrgy Inc., has worked with utilities like Denver Water to install modular turbines on existing conduits that use kinetic energy. Morris said in an interview that "we've only begun to understand the role of conduits for power generation," adding that future DOE studies could unlock even more opportunities.
"Leaders in the energy transition often overlook the role of new hydropower in contributing to a carbon-free world because in its traditional sense, hydropower cannot be deployed as quickly or as massively as solar and wind," Morris said. "Conduits represent a sector that can enable rapid deployment in a way that can be more meaningful and move the needle for renewables."
Read more about the information here: E&E News
https://emrgy.com/wp-content/uploads/2022/10/Hydropower-from-a-ditch.jpeg
598
897
Tanika Owens
https://emrgy.com/wp-content/uploads/2020/07/emrgy_logo_bluetext_highres-1-300x134.png
Tanika Owens
2022-10-24 11:08:35
2022-10-24 11:08:35
Hydropower from a ditch? DOE sees energy potential.